She's an Executive of a Leading Luxury Hair Care Products Company Meet SEVEN haircare, President Sheue Pella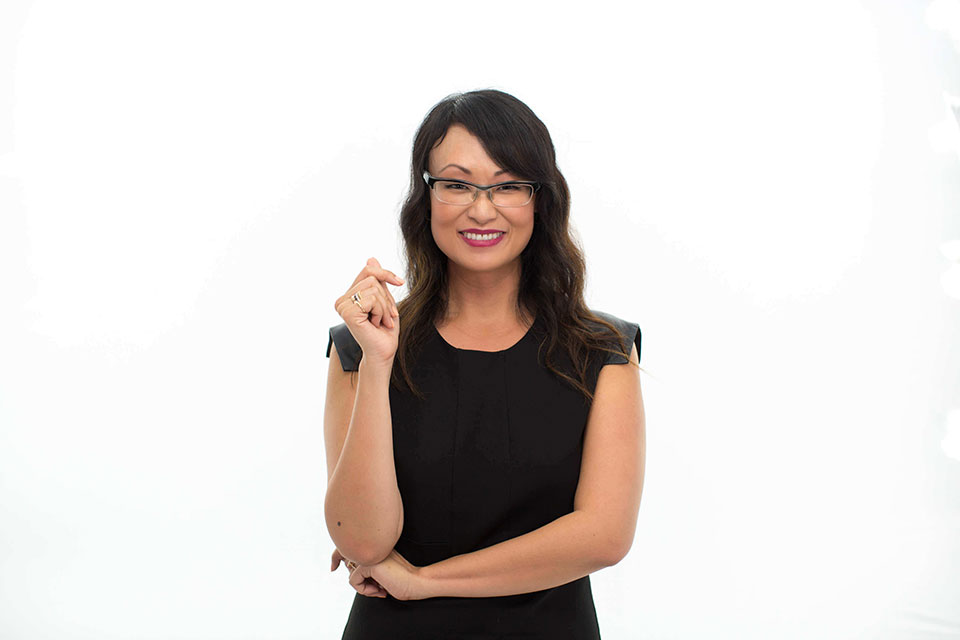 Q: So, before we jump into specific questions, why don't you give us some details about you and your story.
SP: I've always loved beauty, and had an obsession with products, artistry, and ingredients, down to the descriptive copy that was on the packaging. In my youth, however, I never imagined I could parlay that obsession into a career. I am a zero-generation immigrant – I moved to the U.S. with my family from Taiwan when I was 4. I grew up in South Florida and moved to Los Angeles where I attended USC and earned a degree in theatre design with minors in architecture and business. While in school, I worked on the sets of student films and found myself mostly hanging out in the makeup and hair room. There, I became aware that beauty was actually a legitimate industry with many paths for both business and creative-minded types. 
So I began to craft this dream in my head that I would be a successful makeup artist in Hollywood and start my own line of cosmetics (as that was the trend at the time for makeup lines), and even did an internship at Smashbox Cosmetics my senior year. Fast forward to my first full-time job out of school doing admin work at a security alarm company. Luckily, I soon found a whole new segment within beauty – the hair industry, which would become my life for the next 20 years.

Q: For those in our audience not familiar with Seven Haircare, tells us about the company and your role as President.
SP: SEVEN is a professional hair care brand that manufactures and distributes luxury shampoos, conditioners and styling products to hair salons to use and retail to their clients. We are based out of Seattle, WA, and currently partner with over 500 salons across the country. We provide our partners with a variety of perks including education for their hairstylists, marketing assistance, and an unrivaled customer support program. We're a small company that's rapidly growing, and aside from achieving top and bottom line financial objectives, I view my role as one in which I am providing a unified direction for the team, giving them confidence in our future. I am especially proud of our all-female executive team, who are some of the smartest, hardest-working, and most caring people I have ever worked with. 
Q: What makes Seven hair products different from others?
SP: SEVEN started as a salon here in Seattle, and our hairstylists were the original creators of these products over 12 years ago. As you can imagine, Seattleites are eco-, green-, and health-conscious, so our products were made to reflect those values. We use over 70 natural ingredients in the line, and all of our formulations are stylist-approved to ensure they are effective and healthy for hair and scalp.
Q: What is your vision for Seven in the next five years?
SP: Our trajectory is towards building a community of 2000+ Partner Salons, increased direct to consumer engagement, and expansion into international markets.
Q: What was your first job? And how did it shape or impact you?
SP: I was a hostess at the restaurant chain Ruby Tuesday. I was 16 years old—by far the youngest employee there. My favorite shift was the dinner rush, when guests had to be taken care of quickly and I needed to strategize which tables to seat them at so that the servers would be happy, as well as the guests. It was a game of timing, being observant, and knowing which tables were going to be quick turns or stay put all night. Getting to know the regulars was also fun. I think I was destined to be in an industry that is as much about service as it is about products!
Q: Were there moments in your career that were pivotal to getting where you are today?
SP: The first pivotal moment happened early in my career. I was 22 and an assistant in a two-person division. When my boss left for another job about a year later, I was promoted to her position as Director of Workshops at Fred Segal Beauty, without someone replacing my former position. I ran the entire department on my own for the next two years and got a taste being empowered to make decisions – they weren't all good ones, but I learned from that too! I later ran a luxury salon and spa and then went on to work in sales for a major hair care brand. It's true that beauty is a small industry, so making friends along the way and staying in contact with them over the years eventually led me to where I am today. Also, working in small business environments where I had the chance to get my hands into a little bit of everything helped accelerate my learnings.
Q: What would you say is your greatest professional accomplishment thus far?
SP: Being asked to step into my current role has been the ultimate recognition of my contributions to an organization.
Q: What advice do you have for women aiming for leadership positions? 
SP: I would say be cognizant of any implicit gender biases around you, but don't use that as an excuse for not advancing yourself. Instead of saying, "I'm not getting the promotions I deserve because I'm a woman," try saying, "How can I demonstrate my leadership at every turn, so that I can prove that I am the best choice for the next promotion?" Build relationships with your managers and higher-ups – never turn down a chance to get to know them better and vice versa. Make a point to demonstrate the skills and mindset of a leader before you are even in that position, so that you are the natural choice when the opportunity comes.  
Q: What's one lesson you've learned in your career that you can share with our audience?
SP: Manage expectations – both your team's and your customer's. Disappointment is based on an expectation of what the result or experience should be. If you can get ahead of a situation, you can avoid a lot of headaches. This goes hand in hand with the saying, "Under promise and overdeliver" and actively making sure you're not false advertising.
Q: Which woman inspires you and why? 
SP: My mother grew up poor in a small village in Taiwan, the oldest of 7 sisters. She had very little formal education because she left home at an early age to get a job in the big city so she could make money and send it home to her family. She raised me and my brother in a foreign country, getting by on street smarts and limited English, even owning a small business. I am now a parent myself, and I see her differently than I did before. My mother is brave, determined, clever, ambitious, wise, and humble. She inspires me each and every day. 
Five Things About Sheue Pella

1. If you could talk to one famous person past or present, who would it be and why? 
Oprah! She has seen, heard, and experienced so much, and from so many different viewpoints.
2. Who is your favorite author? 
David Sedaris
3. If you had to describe yourself as an animal, which one would it be? 
An owl
4. What app can't you live without?
Google Maps
5. If you could go back in time to change one thing, what would it be?
I'm a big believer in things happening when they're supposed to, but if I knew things would end up well, I would've tried to meet my husband sooner, so the fun could've started earlier